AMANDA SANDOVAL
OUR NEIGHBORHOODS, OUR VOICE, YOUR ADVOCATE
About Amanda Sandoval Amanda Sandoval's Northwest Denver roots run deep. Not only is she a Denver native and lifelong resident of Northwest Denver, but in 1975 her parents opened a well-known area restaurant, La Casa de Tamales in the Berkeley neighborhood. It's now called La Casita and located in the Highlands neighborhood. Her love and dedication for Northwest Denver is rooted in the relationships she forged from serving others in the family restaurant, which remains a community meeting place where discussions turn into actions, and those actions improve the lives of Denver residents and businesses. Through years of listening, learning and observing, Amanda developed the skills crucial to successful leadership, including challenging and improving the status quo. This is clear in her work for the City of Denver. Her genuine compassion has been integral in addressing community issues both large and small, and her experience working with city agencies and residents alike, has earned positive outcomes in every Northwest Denver neighborhood. Amanda understands the value of differing perspectives, the need for well-reasoned solutions, and how to fiercely defend the interests of Northwest Denver residents. These are the reasons why Amanda will be the Voice for District 1.  
"I am committed to moving a strong agenda forward that empowers Northwest Denver residents and ensures the city is working to improve residents' lives, the lives of their love ones and area businesses."

Amanda Sandoval
Our Neighborhoods, Our Voice, Your Advocate
Amanda Sandoval's commitment to Denver goes beyond youthful exuberance, experiential learning, and volunteerism. In fact, she has already spent six years working for area residents and businesses as a council aide to two Denver City Council representatives - former City Councilperson Judy Montero and current District 1 Councilperson Rafael Espinoza. During this time, Amanda solidified her commitment to providing area residents and businesses with a vibrant community in which to thrive. In the fall of 2018, she continued her public sector work by joining the Denver Fire Department as both the Outreach Program Manager and Legislative Liaison. Amanda's candidacy for Council District 1 is based on years of hard work, years of experience and years of commitment to Northwest Denver. All of these reasons are why Amanda Sandoval is running to serve as District 1's next City Council representative and to be the Voice for District 1.
Growing up in Northwest Denver, Amanda graduated from North High School. She attended Metro State University where she earned her Bachelor's degree in Political Science with a Minor in Chicano Studies. During her studies, Sandoval was awarded a George Washington University Fellowship, which took her to Washington D.C. where she learned the foundations of national policy development balanced with advocacy for local interest. Following graduation, Sandoval worked in her family's restaurant and served as a field volunteer on several political campaigns, including as a canvasser and volunteer for Ken Salazar for U.S. Senator (2005), as canvasser coordinator for the Latina Initiative (2008), as an intern for Michael Bennet for U.S. Senate (2010), and as a research participant for Latinas Represent (2013).
"Many of you already know me, because we have worked together to strengthen Northwest Denver. Like you, I have a story about every street. Not because I have walked them as a politician, but because I played on them as a child, walked my children down them to school, and I have spent years working to improve and preserve the culture defined by those very streets."
‍
Amanda Sandoval
Our Neighborhoods, Our Voice, Your Advocate
Amanda and her husband, Michael Encinas, have two children, Isabella "Bella" age 16 and Alexander "Alex" age 15; a Goldendoodle named Winston, and a Jack Russell mutt named, Jack. Bella is currently a Junior at North High School, and will spend 2019 as a U.S. Senate Page in Washington D.C., while Alex is in 8th grade at Skinner Middle School. The Sandoval-Encinas family resides in Northwest Denver's Berkeley neighborhood.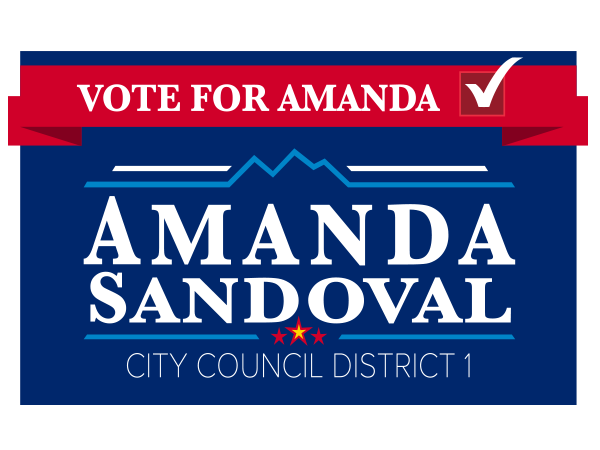 PLATFORM
Real Plans, To Address Real Issues, With Real Solutions, Based on Real Experience